42 Inch Live Cooling Water Leak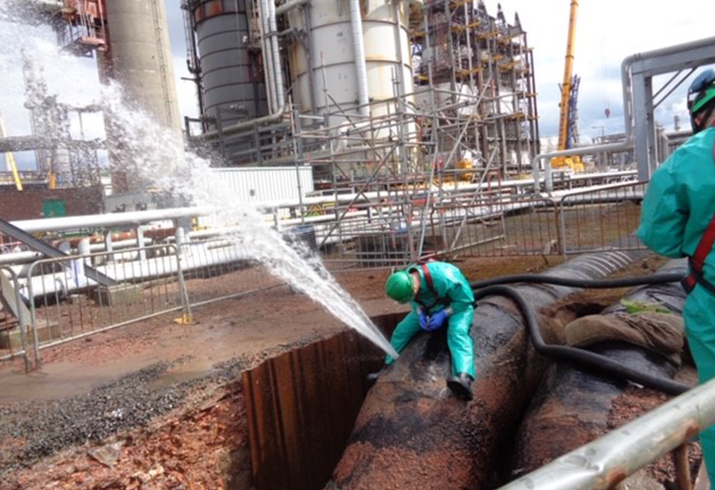 Nature of defect
The cooling water line had suffered from severe external corrosion. This has resulted in a large through-wall leaking defect located at the 10 o'clock position. The line was excavated for the team to access the full circumference of the pipe. The defect is at the soil to air interface so a combination of corrosion and mechanical damage was evident.
Solution
Metalyte Pipeworks technicians positioned large diverts over the leak allowing them to apply Titan 505 live leak seal composite. The diverts were injected with water activated sealants to seal the fast flowing leak. A fully engineered composite repair was then applied over the full repair area encapsulating the main defect area and ensuring the required landing area was achieved on to good pipe.
Repair Method
The affected area located around the defect was cleaned and prepped to allow the bespoke divert to be positioned. Once it was fixed in place, the repair area around the full circumference of the pipe was cleaned and prepared. The Titan 505 composite was then hoop wrapped around the pipe allowing the technicians to inject sealant to seal the leak.
The pipe surface then had a resin bond coat applied prior to the application of the composite. The line was then wrapped in 22 layers of composite and allowed to cure. The repair was completed by applying 2 coats of UV and chemical resistant epoxy paint.