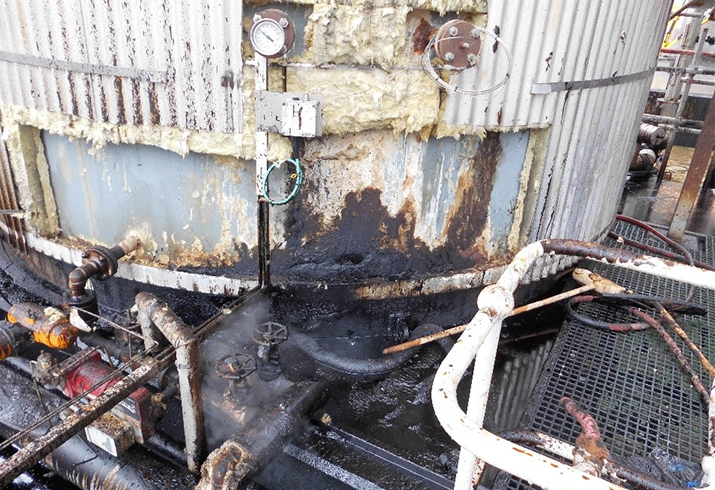 Nature of defect
The Fuel oil storage tank had suffered from external corrosion resulting in a through wall defect behind a large corrosion scab. The tank cannot be drained or isolated and was full. Following the survey by Metalyte Pipework's lead technician, the method of repair was to use their hydrocarbon resistant Herculyte 104 epoxy to seal the leak and then apply a composite patch repair.
Solution
Metalyte Pipeworks solution was to seal and strengthen the leaking corrosion patch with hydrocarbon resistant Herculyte 104 epoxy. Once sealed this was encapsulated using Metalyte Pipeworks "wet up" field applied Dragon system.
Repair method
The area surrounding the leaking corrosion patch was cleaned up of oil and oily deposits and the substrate prepared to gain a rough surface profile for the epoxies to adhere to. The technicians applied the epoxy resin in stages to close down the leak and reinforce the weak corrosion patch. Once fully sealed and cured, the technicians then completed the required surface preparation over the full repair area. The substrate was then fully degreased and the Dragon composite was applied. The repair was completed by applying two coats of UV and chemical resistant paint.