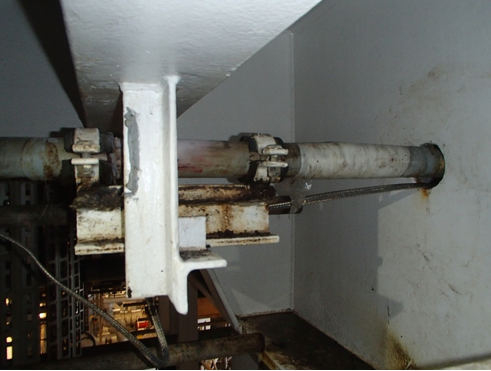 Nature of Defect
The 2" degasser returns line had suffered from suspected Chloride Stress Corrosion Cracking. This resulted in a circumferential hole and 3 cracks in close proximity. There were pipe clamp supports preventing the full landing area being acquired. These were moved down the pipe during the repair to allow the full landing area to be achieved.
Solution
Metalyte Pipeworks solution was to plug the through wall defects with a high bond / high compression hydrocarbon resistant resin. Then apply a 2 part epoxy, fibre glass composite system to gain the required repair thickness and landing area as per the design calculations.
Repair Method
The support got relocated down the pipe allowing the repair area to be prepared by mechanical tooling. A full chemical was completed before plugging the defects with hydrocarbon resistant epoxies.
Metalyte technicians then completed a 2 part resin, fibre glass over wrap ensuring the required landing area as per the design calculations were achieved. The repair was finished off with 2 coats of UV / chemical resistant paint.